Theodore Rozsa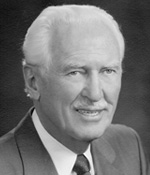 Ted was born in Grand Rapids, Michigan on June 12, 1915. He was the son of a Hungarian immigrant who instilled in him his life long commitment to the value of hard work and the importance of education. In 1933, he completed his high school diploma with honors, having been the top of his class in both his sophomore and junior years, and valedictorian in his senior year. A scholarship and a part-time job enabled him to enroll in what is now Michigan Technological University where he earned his Bachelor of Science degree in geology, with honors two and a half years after he entered.
Ted was a pioneer in the post-war oil industry. His first and only employment after graduation was with the Shell Oil Company where he spent thirteen years managing seismic exploration from the Gulf of Mexico to the tundra of northern Alberta. While working in Texas, he met and married Lola in 1939. He was moved to Calgary as the Chief Geophysicist for Canada in 1949. One year later, Ted made the bold decision to leave Shell and seize the opportunity to start his own company, Frontier Geophysical. Frontier's first three crews worked for Shell then the company expanded to seven seismic crews and one slim hole drilling rig. Ted made a point to hire new graduates as well as more seasoned miners, and dedicated time to their education. When the need for geophysical exploration services diminished in 1963, Ted sold the company to his senior personnel and went into petroleum exploration and production under the company name Rozsa Oils in 1963, which became Basset Oil Limited in 1969. In 1979 he sold that successful company and formed Rozsa Petroleum of which he was also the owner and president which he ran until 2002.
From the time of his entry into the oil production business in 1963, Ted ran a one man outfit. He was everything from bookkeeper to on- site geologist, spending a lot of time in the field. Apart from his considerable skills as a geophysicist and geological engineer, he was known as a man of his word. In 1987, he was awarded the very first Canadian Society of Exploration Geophysicists (CSEG) gold medal for his integrity, outstanding professionalism, and significant contribution to the application and business development of Exploration Geophysics.
Ted strongly believed in giving back to community. While many of his contributions were quiet donations, once he and Lola started the Rozsa Foundation in 1990, their seed financing launched the construction of the Rozsa Centre at the University of Calgary, and the Rozsa Center for the Performing Arts at Michigan Technological University, where Ted had also established a student scholarship fund. Capital support was also given to the Banff Centre and Centre for the Performing Arts, the EPCOR Centre for the Performing Arts and the Foothills Hospital. In order to strengthen local arts organizations, Ted made a large endowment to the Calgary Philharmonic Orchestra for the Maestro's Chair, as well as giving significant annual operational funding to the CPO, Calgary Opera, Honens, in addition to supporting the Glenbow Museum, Theatre Calgary and many other charitable causes.
Ted's lifelong recreation was the game of golf. He was one of the early CSEG members who founded the Doodlebug Golf Tournament in 1953, in which he played for thirty-eight consecutive years and is remembered through the annual Ted Rozsa Doodlebug Award. He was an active member of the Calgary Golf and Country Club for over fifty years.
Ted received numerous honors for his professional contributions, philanthropy and civic leadership. In 1990, he received an Honorary Doctor of Engineering from Michigan Technological University and an Honorary Doctor of Laws from the University of Calgary. In 1991, he was named an Officer of the Order of Canada, of which he was most proud.
Other honors he received include: the Michigan Technological University Silver Medal (1988), the Canadian Music Council Award (1989), the Government of Canada Lescarbot Award (1991), Rotary Integrity Award (1994), Edmund C. Bovey Award for Business and the Arts (2002), Lieutenant Governor Award (2004), Alberta Centennial Medal (2005).
Ted and Lola have three children: Ruth Ann Rayner, Theodore Siydney Rozsa, and Mary Rozsa de Coquet. T.S. also established a career in the oil patch, while their Ruth Ann and Mary remain active in the family Foundation.