Edward McNally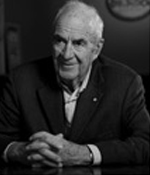 Edward (Ed) McNally was born in Lethbridge in 1925 and he witnessed the effects of the depression. His working career started with a job as a journalist, then a newspaper editor where he learned the value of words and how less was more.
After completing a law degree he married Linda and had four children. Ed practiced law in Calgary. Weekends were spent on a family farm south of Calgary where Ed discovered the joys of growing his own produce. His passion for farming grew and expanded to include growing barley and raising cattle.
A ferocious reader and entrepreneur at heart, Ed read about the "Mushrooming Microbreweries" in the US and believed that there was a market for "real beer" in Alberta; beer that was flavorful and true to the Reinheitsgebot, The Bavarian Law of Purity of 1516. Big Rock Brewery was established in 1985 because a few people understood the simplicity and truth of Ed's belief. Ed's life experiences, determination, hard work, commitment to the community and superb employees have culminated in the success that is now Big Rock Brewery – the second largest Canadian owned brewery dedicated to the production of a vast selection of pure malt, unpasteurized beers.
Ed graduated from the University of British Columbia in 1951 with his Bachelor of Laws and Arts Degrees and received an Honourary Doctorate of Laws Degree from the University of Calgary in 1998. Past and present directorships held by Ed include positions with the: Alberta Barley Growers, Alberta Genetics, Algonquin Oil and Gas Ltd., Huntly Cattle Company Scotland and Western Barley Growers Association.
Ed has been honoured for his vision, business acumen and community involvement through receipt of: the Governor General of Canada Order of Canada in 2005, the Mount Royal College, Distinguished Citizen of the Year Award in 2004, the Ernst and Young, Canada's Entrepreneur of the Year Award in 1995, the Fraser Milner Casgrain LLP, Pinnacle Award of Business Excellence in 1992 and the University of Calgary, Haskayne School of Business, Distinguished Business Leader Award in 1992. The University of Lethbridge has also honoured Ed McNally with an Honorary Doctorate Degree.
Ed's philanthropic contributions and donations are notable including but certainly not limited to: The Alberta Beef Producers Market Development Fund, the Alberta Mentor Foundation for Youth, the Calgary Philharmonic Orchestra, the Calgary Women's Shelter, Drought Aid and the United Way. With specific donations allocated to education and health care Ed supports a diverse range of organizations and causes which include Renfrew Education Services and The University of Calgary, Big Rock Lecture Series as well as the AIDS Calgary Awareness Association, Alberta Cancer Foundation, Alberta Children's Hospital, the Canadian Diabetes Foundation, Heart and Stroke Foundation and the Summit Foundation for Cystic Fibrosis.
Located in Calgary, Big rock Breweries is the most state-of-the-art facility in North America. The name "Big Rock" comes from a large glacial rock located outside of the town of Okotoks just south of Calgary. Today Big Rock Breweries is a public company with 120 employees and its own distribution network making it a true Alberta success story.