Clive J. Beddoe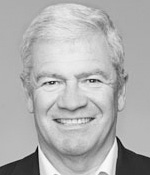 Clive Beddoe is a founding shareholder and Chairman of the Board of Directors of WestJet. In September 2007, Clive was appointed WestJet Chairman having previously held the roles of President and Chief Executive Officer. Clive has been instrumental in making WestJet one of the most successful airlines in recent aviation history.
Clive's keen business acumen has shaped the development of WestJet's corporate culture, executive team and strategy. A true entrepreneur, Clive's strong background in financial planning and strategic management was gained through several successful real estate and plastics enterprises.
In 2000, Clive and his fellow WestJet founders received the Worldwide Award for Teamwork at the World Entrepreneur of the Year celebrations. In 2001, he received the Pinnacle Award, and in that same year, WestJet was awarded the "Business Ethics" award from the Better Business Bureau of Southern Alberta. In 2002 and 2003, WestJet was named one of Canada's most respected companies, and in 2003, WestJet received the Most Respected Corporation title for Innovative Practices from Alberta Venture Magazine. In 2004, Clive received the prestigious Canadian Business Leader Award from the University of Alberta Faculty of Business and the Business Advisory Council.
Clive has been the recipient of honorary degrees from the University of Calgary and Wilfred Laurier University and was appointed the 2010/2011 Jarislowsky Resident Fellow in Business Management at the Haskayne School of Business at the University of Calgary.
Clive is a resident of Calgary, having immigrated to Canada from England in 1970. Married with two children, Clive is a private pilot licensed to fly numerous types of aircraft. It was through this keen interest in aviation that spurred the formation of WestJet.
Board Committees
As Chairman, Mr. Beddoe voluntarily attends all committee meetings