J.R. (Bud) McCaig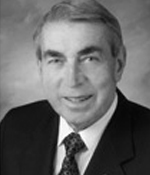 The Calgary Business Hall of Fame is honoured to recognize J.R. (Bud) McCaig, Chairman of the Board of Trimac Corporation. Bud McCaig has been involved in Trimac since 1945 when it was founded as Maccam Transport Ltd. In 1960, Trimac was formed, and it purchased H.M. Trimble to acquire trucking operations in Alberta and British Columbia. From 1961 until 1968, he was President of HM Trimble & Sons and, from 1969 until 1970, he served as President of Westburne International Industries Ltd. He was named President and CEO of Trimac Ltd. in 1970, the company went public in 1971, and he was named Chairman in 1972.
Bud McCaig serves on the Board of Trimac Corporation, Bantrel Inc., Brookfield Properties Corporation and Western Lakota Energy Services Inc. He is also Chairman Emeritus of the Calgary Health Trust and Past Chairman of Calgary Laboratory Services. He is also Past Chairman of the Calgary Regional Health Authority.
Bud's contributions have been frequently recognized. His awards include an Honourary Doctor of Laws Degree from the University of Calgary, induction into the Saskatchewan Oil & Gas Industry Hall of Fame, Canadian Master Entrepreneur of the Year, Mount Royal College Distinguished Citizen, Paul Harris Fellowship Award from Rotary International, the 1998 Distinguished Business Leader Award from the University of Calgary and in 1999 the Order of Canada.
Bud McCaig has been a generous benefactor to the University of Calgary, establishing the McCaig Fund for Development and Enhancement and the Regional Program of Excellence in Joint Injury and Arthritis at the McCaig Centre for Joint Injury and Arthritis Research at the Faculty of Medicine.
In 2004, he made a major donation to establish the Alberta Bone and Joint Health Institute to greatly enhance the care and treatment of Bone and Joint injuries and Arthritis for all Albertans.
J.R. (Bud) McCaig is also a co-owner of the Calgary Flames.