Lorenzo Donadeo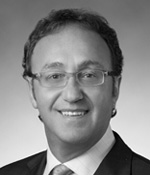 Lorenzo is Co-Founder, current Chair, and the former Chief Executive Officer of Vermilion Energy Inc., an international oil and gas producer with assets in Canada, Europe, Australia and the United States. From inception in 1994, Vermilion has provided a compounded annual rate of return of 28% over the last 24 years and currently has a $5 Billion market capitalization. Since 2010, Vermilion has consistently been recognized as a Best Workplace by the Great Place to Work Institute. It has also been recognized as a sustainability leader by a number of independent sustainability organizations.
Lorenzo is currently the Managing Director of Casadona Group, a private family-owned diversified investment company. Casadona's strategy is to develop the internal capacity and resources to generate competitive market returns while focusing on long term capital preservation.
In 2015, Lorenzo and his wife Donna and their family made a significant donation to the University of Alberta Faculty of Engineering to help fund the Donadeo Innovation Centre for Engineering. The Donadeo family understands that they have a responsibility to give back to the community, and they support a number of initiatives that are primarily focused on Education and Homelessness and Poverty. Vermilion is also recognized as a leader in community giving in areas where their employees work and live.
In 2015, Lorenzo was recognized for his outstanding service to France with his official appointment to the National Order of the Legion of Honour, France's highest order of merit, at the rank of Chevalier. In 2016, he was named CEO of the Year by Alberta Oil Magazine, and received the SAIT Distinguished Alumni Award.
Prior to Vermilion, Lorenzo worked at Dome Petroleum and Amoco Canada, as well as a private oil and gas company. Lorenzo has a Diploma in Welding Engineering Technology (Honours), SAIT, 1977 and a B.Sc. Mechanical Engineering (Honours), University of Alberta, 1981.