Jack C. Donald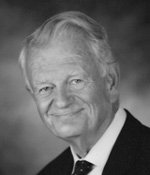 Jack C. Donald is an entrepreneur that took Alberta's "upstream" exploration sector's streak of entrepreneurial independence into "downstream" refining and retailing from his home base in Red Deer. Beginning with one service station, Jack built Parkland Oil Products into a 38-station chain before selling it to Turbo Resources in 1971. He returned to the fuels sector in 1977 and he began building Parkland Industries into a chain spanning western and northern Canada with 445 retail locations, a trucking fleet and a refinery. Jack retired as president of Parkland in 2001.
Parkland Fuel Corporation is now Canada's largest independent marketer and distributor of fuels. Its family of brands includes: Bluewave Energy, Columbia Fuels, Great Northern Oil, Neufeld Petroleum & Propane, United Petroleum Products, Fas Gas Plus and Race Trac Gas.
Jack and his wife Joan have lead fundraising campaigns for STARS, Red Deer College, the Westerner, and the hospice in Red Deer, and their recent $3 million gift to Red Deer College is the largest the College has ever received.