Eric Lafferty Harvie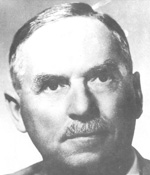 Eric Lafferty Harvie, oilman, philanthropist (b at Orillia, Ont 2 Apr 1892; d at Calgary 11 Jan 1975). Harvie was called to the Alberta Bar in 1915. He served overseas in WWI, was wounded in France and achieved the rank of Captain. Later he was appointed Honorary Colonel of the Calgary Highlanders continuing a life long association with the Canadian Military.
As a Calgary lawyer, he was involved in the oil business and in 1944 purchased the mineral rights held by British Dominions Land Settlement Co. With these he formed Western Leaseholds Ltd. and Western Minerals Ltd. In 1947-48, when oil was discovered on several of his leases in the Leduc and Redwater fields of Alberta, he became wealthy. He created a vertically integrated oil and gas exploration and production company to develop the Redwater field. His company owned and operated drilling and service rigs, constructed pipelines and handled the entire infrastructure to find and produce oil and gas.
In 1955 he turned to philanthropic endeavours. His first major achievement was forming the Glenbow Foundation which led to the establishment of the Glenbow Museum in Calgary and later oversaw the creation of Heritage Park. Years later, he formed the Devonian Foundation which provided funding for a great many public projects that continued being developed over several decades.
A modest man, he kept most of his good works secret, but he was known for his assistance to the Calgary Zoological Society, the Banff School of Fine Arts, and theLuxton Museum of Banff. He was a founding officer of the Canada Council and made an Officer of the Order of Canada in 1967.