Margaret E. Southern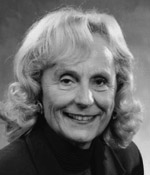 Margaret E. Southern (nee Visser) was born in Calgary, Alberta. She received a degree in physical education from the University of Alberta and taught at the University of Calgary and at high schools in Edmonton and Calgary. Margaret, along with her husband Ronald, built the internationally renowned Spruce Meadows Equestrian Centre in Calgary. It is recognized as one of the world's finest competitive show jumping complexes.
Margaret participated in numerous businesses, community and non-profit boards and has received many awards and recognitions, including Canada's highest award - Companion of the Order of Canada, Alberta Order of Excellence, Honorary Director of Laws from the University of Lethbridge, the University of Calgary, Southern Alberta Institute of Technology (SAIT) and Mount Royal University.
Margaret served as the Lady-in-Waiting to Her Majesty Queen Elizabeth II during Her Royal Visit to Canada in 1990, and, upon her departure, Queen Elizabeth II bestowed the honor of Lieutenant of the Victorian Order (L.V.O.) upon Margaret Southern.
By Order of Queen Beatrix of the Netherlands, Mrs. Southern received Holland's highest award, The Order of Orange – Nassau.
Her passion for sport and recreation has benefited many. Mrs. Southern was a long-time volunteer with Skate Canada and the World Skating Championships. A commitment to ensuring Calgarians enjoy parks and green spaces led Margaret to become a founder of the city's first Parks and Recreation Board, which banked land for future recreational use, helped develop Fish Creek Park and preserved Nose Hill Park. She was an inaugural member of the Calgary Downtown Tree Planting Committee, planting 500 trees during Calgary's centennial.
In 1992, Margaret, along with her husband Ron, was inducted into the Alberta Sports Hall of Fame, and into Canada's Sports Hall of Fame in 2006.
Margaret has two daughters, Nancy and Linda, each accomplished in their own businesses.