Ralph T. Scurfield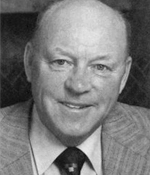 Ralph Thomas Scurfield was born in Broadview, Saskatchewan, on Jan. 7, 1928. His family moved to the small farming community of Ninga, Manitoba, where his father was the station master on the Canadian Pacific Railway line. Scurfield attended the University of Manitoba, working his way through school by taking summer carpentry jobs. After receiving his Bachelor of Science degree in 1948, Ralph became an elementary school teacher. He taught in Manitoba for two years, before leaving to pursue his chosen trade of carpentry.
In 1951, lured by the booming Alberta economy, he moved to Edmonton, where he quickly found employment with McConnell Homes as a crew foreman. Scurfield's employer, Ches McConnell, impressed with Ralph's work ethic and university degree, asked Ralph to move to Calgary to manage a small, financially struggling house building company called Nu-West Homes. Ralph agreed, on the condition that he be allowed to buy in as a one-third partner.
After mortgaging his house to finance his partnership, in 1957, at the age of 29, he became president of Nu-West Homes. When he moved to Calgary, he found that Nu-West was in worse financial shape than he had been led to believe. Ralph went to work salvaging the reputation of the near bankrupt company by fixing previously built houses free of charge.
Under Scurfield's direction, Nu-West Homes flourished, and Scurfield's personal stature grew. In 1969, Nu-West went public, and the money raised was used to purchase land in and around the City of Edmonton. Nu-West continued to expand and was soon building homes and buildings across Canada and in parts of the United States.
As a result of Nu-West's success, Scurfield's advice was sought out by city planners, business, and political leaders. Scurfield was one of the founding members of Carma Ltd., a cooperative of independent builders who banded together to form a land development company to provide serviced lots to Calgary homebuilders. In 1963, he became president of the Calgary House Builder's Association, and in 1969 became the president of the National House Builder's Association of Canada.
Using his influence, Scurfield established national house building standards, and introduced the New Home Builder's Warranty Program, which continues to this day. He convinced his contemporary house building competitors that long term quality of life was more important than short-term profit.
Always defying the stereotype, Scurfield demonstrated that a land developer could also be an environmentalist. Recognizing that the natural beauty of the undisturbed Nose Hill added a distinctive and desirable quality of life to Calgary, in the mid-1970s, Ralph orchestrated a land swap between Nu-West, Carma Developers and the City of Calgary, allowing the city to gain ownership of the Nose Hill, which today is the largest city-owned natural park in North America, and part of Ralph's lasting legacy to the City of Calgary and its citizens.
In addition to building homes, Ralph T. Scurfield contributions includes: the purchase of Sunshine Village Ski & Snowboard Resort located in Banff National Park in 1981. He was one of the founding owners of the National Hockey League's Calgary Flames. He was also actively involved in the establishment of the Faculty of Management at the University of Calgary, where Scurfield Hall is named in his honour.
On February 18, 1985, Scurfied and another person died in an avalanche while Heli-skiing in the Monashee Mountains near Blue River, British Columbia.