David Johnson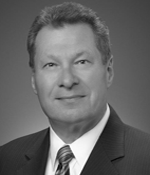 David Johnson holds a Bachelor of Degree in Petroleum Engineering from the University of Wyoming and has over 35 years of diverse experience in the oil and gas industry, including a background in production, reservoir evaluation and operations.
David currently serves as a Director at Progress Energy Resourses and was previously Chairman of Progress Energy Resources Corp. prior to its sale in 2012. David has also held the positions of Executive Chairman of Progress Energy Trust and President and Chief Executive Officer of ProEx Energy Ltd. Prior to these positions, he was President and Chief Executive Officer of Progress Energy Ltd. and prior thereto, President and Chief Executive Officer of Calgary based Encal Energy Ltd.
David is also a director of Zedi Inc. (an oilfield services company), Pinecrest Energy Inc. (an exploration and production company), and TORC Oil & Gas Ltd. (an exploration and production company). He is a member of the Association of Engineers, Geoscientists of Alberta and has served twice as a Governor of the Canadian Association of Petroleum Producers.
He has also been active in many community and charitable societies. He is a supporter of United Way of Calgary & Area. David personally donated $5 million to the Promising Futures Campaign to create the Trades and Technology Complex. In recognition for his donation, one of the buildings has been named after him – Johnson – Cobbe Energy Centre. David was awarded the Distinguished Alumnus Award from the Southern Alberta Institute of Technology where he graduated prior to attending the University of Wyoming.