Mac Van Wielingen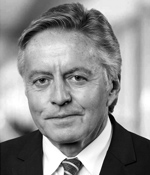 Mac Van Wielingen provides leadership support for ARC Financial with a focus on strategy, corporate development and investment decision-making. Mac was a founder of ARC Financial in 1989 and ARC Resources Ltd. in 1996.
ARC Financial is a leading private equity investment management company focused on the oil and gas sector in Canada with currently approximately $5 billion of capital under management.
Mac is also a founder, director and former Chair of ARC Resources Ltd., one of Canada's largest conventional oil and gas companies with current daily production of approximately 110,000 barrels of oil equivalent and total market capitalization of approximately $8 billion.
Mac is Chairman of the Board of Directors of Alberta Investment Management Corporation, a provincial crown corporation responsible for managing approximately $90 billion on behalf of public sector pension, endowment and special purpose funds.
Mac is a past and current director of numerous other companies within the oil and gas sector, and is active in various capacities in the community and the not-for-profit sector.
Mac is also President of Viewpoint Capital Corporation, a private family-owned investment company, and President of Viewpoint Foundation, a private charitable foundation.
As a co-founder and Chair of the Canadian Centre for Advanced Leadership in Business (CCAL), Mac is actively involved at the University of Calgary. CCAL's mission is to support the introduction of advanced understandings of business leadership into business education, with a focus on performance and ethics.
Mac has a passionate interest in leadership, organizational culture and communication which has grown from 30 years of successful entrepreneurship and corporate executive leadership. These interests drive his involvement in writing and speaking on related themes.
In 2015, Mac received the C-Suite Executive Leadership Award for Chairman of the Year, ARC Resources Ltd. from Alberta Oil. In June 2014, he became an Adjunct Professor at Haskayne School of Business and was awarded an honorary Doctor of Laws from the University of Calgary. Also in 2014, Mac received the Distinguished Business Leadership Award from the Haskayne School of Business, and the Calgary Chamber of Commerce. In 2013, Mac was the recipient of the Calgary Ivey Leadership Award, and in 2011 he won the Prairies Ernst and Young Entrepreneur of the Year award.

Mac is an honours graduate of the Ivey School of Business in finance and has also studied post graduate economics at Harvard University.