David O'Brien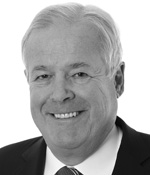 David grew up in Montreal where he obtained a Bachelor of Arts (Honours Economics) Degree from Loyola College (now part of Concordia University) and a Law Degree from McGill University.

He practiced law for several years as a trial lawyer at Ogilvy Renault in Montreal. At the age of 36 he moved across the country to Calgary with his wife Gail and three young children, Tara, Matthew and Shaun. He and his wife have resided in Calgary since late 1977.

He is currently Chairman of the Royal Bank of Canada - Canada's largest bank. He is also Chairman of Encana Corporation - one of North America's largest independent natural gas companies.

Mr. O'Brien was Chief Executive Officer of Canadian Pacific Limited from 1995 until the break-up of Canadian Pacific into five public companies in October 2001. He moved the head office of CP and CPR to Calgary in 1996.

Upon completion of the split-up of Canadian Pacific, he acted as Chief Executive Officer of PanCanadian Energy Corporation (where he had previously been CEO from 1990 to 1995) and negotiated the merger of PanCanadian Energy Corporation and Alberta Energy Company Ltd. to create Encana Corporation. This merger became effective in April 2002. Prior to joining PanCanadian, he held various management positions at Petro-Canada in Calgary, rising to Executive Vice President.

Mr. O'Brien was Chairman of the Canadian Association of Petroleum Producers 1994 - 1995 and was Chairman of the Canadian Council of Chief Executives (formerly the Business Council on National Issues) from 1999 - 2001. In addition, he served on the Board of Governors of the University of Calgary for six years from 1997 to 2003 and was Chancellor of Concordia University for five years from 2006 to 2010.

Mr. O'Brien has received a variety of awards over the years. He has received three honourary degrees, including one from the University of Calgary. He has been recognized as an Outstanding Business Leader and received the 2001 Distinguished Business Leader joint award of the University of Calgary and the Calgary Chamber of Commerce. In May 2004, Mr. O'Brien was inducted into the Canadian Business Hall of Fame and in May 2005, Mr. O'Brien was named a Fellow of the Institute of Corporate Directors. In December 2008, Mr. O'Brien was appointed an Officer of the Order of Canada.