P. John Aldred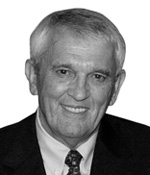 P. John Aldred was born and educated in Oxfordshire, England. John qualified as the British equivalent of an agricultural engineering technologist. When John arrived in Canada from Britain in 1967 at the age of 23, he became a heavy-duty mechanic and worked as a field serviceman for Midwestern Compressor in Calgary. In 1971, John moved to PAMCO Limited, the subsidiary of an American parent, becoming its President four years later.
In 1980, John left his post as President of PAMCO to establish a business in the Canadian compressor rental market — Enerflex. Since its founding in 1980, Enerflex has benefited from the growing demand for natural gas both in North America and around the world. By the time Enerflex was sold to Toromont Industries in 2010 for $670-million, the Company had more than $1 billion in annual revenues and 3,000 employees around the world.
John is a past member of the Board of Directors for Careers: The Next Generation and Alberta Junior Achievement. He completed a 6-year term as the Vice-Chair of SAIT's Board of Governors in June of 2007 and last year John and Cheryl Aldred presented the school with a record-setting $15-million personal donation.
John also founded the Cadmus Foundation, which was established to provide support towards the furthering of the trades and education.