John Dielwart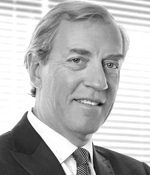 John Dielwart is Founder, Director, and the former Chief Executive Officer of ARC Resources Ltd. which owns and operates oil and gas properties in Western Canada. He oversaw the growth of ARC Resources Ltd. from start-up in 1996 to a total capitalization of approximately $10 billion.
After his retirement from ARC Resources Ltd. on January 1, 2013, Mr. Dielwart re-joined ARC Financial Corp. as Vice-Chairman. ARC Financial Corp. is Canada's leading energy focused private equity manager with over $4.0 billion of capital under management. Mr. Dielwart provides leadership support for the executive team in the areas of internal governance and investment decision-making. With his extensive background in creating, building and leading one of Canada's most successful oil and gas companies, mentorship of ARC Financial employees as well as management of ARC's investee companies is a primary responsibility. He is a member of ARC's Investment and Strategy committees.
Prior to joining ARC Financial in 1994, Mr. Dielwart spent 12 years with a major Calgary based oil and natural gas engineering consulting firm, as senior vice-president and a director, where he gained extensive technical knowledge of oil and natural gas properties in western Canada. Mr. Dielwart also spent the first five years of his career with a multinational oil and gas company.
Mr. Dielwart has a Bachelor of Science with Distinction (Civil Engineering) degree from the University of Calgary (1977). He served two three year terms as a Governor of the Canadian Association of Petroleum Producers (CAPP) including 18 months (2002 to 2004) as Chairman. He is also a founding board member and current Board Co-Chair of the Sheldon Kennedy Child Advocacy Centre.