Ronald D. Southern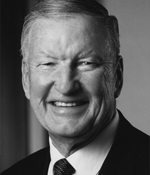 He lived an extraordinary life, building and accomplishing what very few can dream of. Ronald D. Southern lived in Calgary all of his life but traveled the world extensively during his adult years. He was a proud Canadian and loved his Alberta roots.
While still in high school in 1947, Ronald, a self-described "child of commerce", founded Alberta Trailer Hire with his father Samuel Donald. Starting with five people, the enterprise today – ATCO Group – has grown to more than 8000 employees worldwide.
Ronald was a self-made businessman who became a respected giant of Canadian commerce. His success included gas and electrical utility companies, midstream, drilling, pipelines, logistics, manufacturing, workforce housing sales, leasing, maintenance and operations.
ATCO Ltd. and Canadian Utilities Limited, which ATCO acquired and repatriated in 1980, have done business in more than 100 countries around the world.
In addition to acting as Chairman of the Board of ATCO, Canadian Utilities and Akita Drilling for decades, Ronald actively enjoyed his time on the Boards of Directors of a number of Canada's most prestigious companies including: Canadian Pacific Limited, Chrysler Canada, Imasco, Lafarge Canada, Royal and Sun Alliance (RSA), Trimac, Pacific Western Airlines, Canadian Pacific Airlines, Canadian Airlines, Xerox Canada, Mercantile Bank, Canadian Export Development Corporation, Crown Zellerbach, and Fletcher Challenge.
In 2007 he was inducted into the Canadian Manufacturing Hall of Fame. In 1996 Ronald was recognized by the Financial Post as the CEO of the Year in Canada. In 1990 the University of Manitoba recognized him as the International Distinguished Entrepreneur and in 1986 the University of Alberta recognized Ron as the Businessman of the Year.
RD, as Ronald was known by all his friends, was awarded a Companion of the Order of Canada in 2007 and honoured with the Alberta Order of Excellence in 2012.