Sydney Kahanoff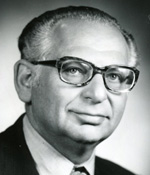 Sydney Kahanoff was born in Winnipeg but essentially grew up in Mildred, Saskatchewan. He completed his grade twelve at Prince Albert Collegiate Institute in 1939 and, shortly after graduation, joined the Royal Canadian Air Force. He was stationed in the Aleutian Islands and in  England during the war. On returning to Canada, Syd attended the University of Saskatchewan in the engineering faculty majoring in physics.
He first worked for National Geophysical and then moved to Union Oil Exploration. After several years in Canada, he transferred to Australia.
After returning to Canada, Syd created Voyager Petroleums. This led to a very successful company, which he sold to Ralph Scurfield in 1979. At that time he founded a philanthropic organization, The Kahanoff Foundation, to distribute grants in a variety of areas.
He died one year later in 1980, but established a unit of governance that would carry on his philanthropic plan.