Rick George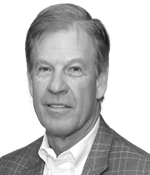 During two decades at the helm of Suncor Energy, Rick George oversaw the successful transformation of a small privately held oil sands company with a valuation of $1 billion, to Canada's largest integrated energy company with a public valuation of over $50 billion.
He was named "Outstanding CEO of the Year" in 1999 and received the Canadian Business Leader Award in 2000.
Mr. George was appointed an Officer of the Order of Canada in December 2007 for his leadership in the development of Canada's natural resources sector, for his efforts to provide economic opportunities to Aboriginal communities, and for his commitment to sustainable development. In 2008, he was inducted into the Canadian Petroleum Hall of Fame.
In May 2013 Mr. George was elected as Chairman of the Board of Penn West Exploration. In 2012, Mr. George was elected to the Board of The Royal Bank of Canada and Anadarko Petroleum Corporation. As well, he was selected by the Ivey School of Business to receive the 2012 Ivey Business Leader Award. Mr. George also recently published a book with HarperCollins Canada called, "Sun Rise: Suncor, the Oil Sands, and the Future of Energy".
He served as Chairman of the Canadian Council of Chief Executives from 2003-2006 and was selected to serve as Chair of the Canadian contingent of the North American Competitiveness Council in 2008.
He was a member of the Calgary Committee to End Homelessness in 2007 and Chair of the 2008 Governor General's Canadian Leadership Conference.
Originally from Brush, Colorado, Mr. George spent 10 years with Sun Company, primarily in the U.K., the last four of which were spent as managing director of Sun Oil Britain Limited. He moved from London, England to Canada in 1991.
Mr. George holds a Bachelor of Science degree in engineering from Colorado State University, a law degree from the University of Houston Law School and is a graduate of the Harvard Business School Program for Management Development.
He and his wife have three children. The entire family became Canadian citizens in 1996.