Patrick Daniel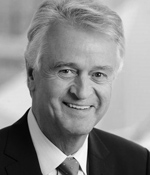 Patrick Daniel held the position of President and CEO of Enbridge Inc from January 2001 to October 2012. Pat's energy experience spans over 40 years. His background includes process engineering, information technology, business development, and corporate planning with Hudson's Bay Oil and Gas and Enbridge (and its predecessor companies). He was responsible for the start-up of Enbridge's technology and consulting business unit, its international division, and its expansion into the Natural Gas business. As CEO, Patrick led Enbridge's entry in wind, solar and geothermal energy. During his tenure as CEO, Enbridge was named Canada's most sustainable corporation and always among the Top 100 in sustainability in the world.
Pat is currently the Chair of Cenovus Energy Inc. and Director at Canadian Imperial Bank of Commerce and Capital Power. He also chairs the North American Review Board of Air Liquide. Pat is an active industry and community volunteer. He chairs the Daniel Family Foundation, a philanthropic charitable organization and volunteers with the Light Up the World charity. He has travelled to three continents on projects to bring energy to those who cannot afford it. The Daniel Family Foundation supports the Perimeter Institute, University of Calgary Psychosocial Oncology, Outward Bound Canada, Servants Anonymous, University of Alberta, and students at the University of British Columbia and McGill University.
In 2007, Pat was named Canadian Energy person of the year by the Energy Council of Canada. In 2009, he received the Distinguished Business Leader Award from the University of Calgary and the Chamber of Commerce. Patrick was named 2010 Resource Person of the Year by the Alberta Chamber of Resources.
In 2011, he was awarded Canada's Outstanding CEO of the Year Award as chosen by an independent national advisory board. In 2013, he was named Canadian Business Leader of the Year as awarded by the University of Alberta.
Patrick holds a Bachelor of Science