Murray Cobbe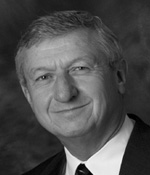 Murray was born and raised in central Manitoba before moving to Alberta to study Petroleum Engineering. He graduated from the Southern Alberta Institute of Technology with his Diploma in Petroleum Engineering (Reservoir) in 1970 and then began his career with Shell Canada developing Arctic and offshore exploration programs. He then joined Atwood Oceanics in 1974 to oversee the drilling of offshore exploration wells. This role took him to Australia, Singapore, Indonesia and Malaysia. Capitalizing on Murray's solid experience, Nowsco invited him to join them in setting up their southeast Asia Business Unit, which he did in 1977. Until 1996, he continued with Nowsco where he held key roles in Operations, Sales and Engineering and managed several business units in the Middle East, Europe, Canada and the US as well as a producing oilfield in Siberia. The remainder of Murray's career was spent with Trican Well Service Ltd. where he took the helm as Chief Executive Officer in 1996, served on the Company's Board and realized one of his greatest accomplishments: building a formidable team that was successful in various parts of the world and cultivating opportunities for his young staff to succeed.
Although 2009 marked Murray's retirement, he remains active in the industry imparting his expertise and guidance to several organizations. After being a past Director and Chairman of the Petroleum Services Association of Canada (PSAC), he continues as Chairman of the Board at Trican, a Director on the Board of Bellatrix Exploration Ltd., and as Lead Director at Secure Energy Services Ltd. Murray is also involved in various private ventures in the well service business.
Murray's distinguished career has spanned almost 50 years and five continents, but he is most proud of his family. Beside him always was his wife and best friend, Connie. While travelling the globe, they made many memories with their three children – Gerald, Reece and Sheri – and continue making many more with their seven grandchildren.