Max Bell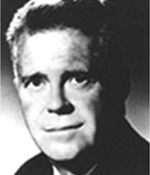 An extraordinarily astute and far-sighted son of the Canadian West, George Maxwell Bell (1912-1972) contributed significantly to the wave of expansion of North American enterprise in the mid-twentieth century. During his multi-faceted career, Max Bell achieved pre-eminence as a businessman, entrepreneur, oilman, newspaper publisher, sportsman and philanthropist. A highly religious man, Max Bell was a sincere and generous humanitarian who possessed great vision and the practical bent necessary to translate it into reality.
Max Bell thrived on taking risks. Throughout his life, he continually supported unproven and often risky ventures. Both his mind and his spirit fed on innovation. This spirit has guided the work of the Foundation over the last 25 years.
Max Bell's fulfillment of his high and diverse aspirations is a tribute to the free enterprise system to which he was devoted. After graduating from McGill University with a Commerce degree in 1932, he held various jobs as a labourer and prospector in British Columbia.
Showing his acumen and preference for what he called the "dealing side" of business, he managed to secure a contract providing railway ties to the Canadian Pacific Railway and invested the profits in a dormant Turner Valley oil company.
In 1935, Max Bell became the business manager of his father's ailing newspaper, The Albertan. Three months later his father died, leaving the paper $500,000 in debt. In 1943, Mr. Bell raised enough money with the help of four friends to buy The Albertan. Within two years he had repaid all his father's debts.
An investment in Turner Valley Oilwell #1 would yield Max Bell his initial fortune as a result of the 1947 oil boom. He applied the profits to other newspaper investments. In a related initiative, he later became one of the original developers and owners of Alberta Eastern Natural Gas Company, pursuing a vision of drilling for low cost natural gas in southeastern Alberta.
Recognizing the potential of consolidation on a national scale, Max Bell formed a partnership with the late Victor Sifton and the late Richard S. Malone of the Winnipeg Free Press. The pooling of their respective newspaper holdings and their 1959 purchase of The Ottawa Journal resulted in the formation of F.P. Publications, Ltd., which became one of the largest newspaper chains in Canada. In 1961, Max Bell became Chairman of the organization. Under its control were, amongst others, the Vancouver Sun, the Toronto Globe and Mail, the Winnipeg Free Press, the Lethbridge Herald, the Victoria Times and the Victoria Colonist.
Never content with exclusive involvement in any one enterprise, Max Bell also served as a Director of the Canadian Pacific Railway, the Bank of Nova Scotia, Northern Electric and a number of other major Canadian corporations as he pursued his entrepreneurial interests.
A dedicated athlete and fitness enthusiast, Max Bell was an internationally recognized sportsman. He played both football and hockey at McGill and hockey for the Kimberley Dynamiters. He developed a passionate interest in thoroughbreds, which he nurtured through his lifelong friendship and association with the legendary jockey Johnny Longden and long time friend Bing Crosby.
Not surprisingly, he was as shrewd a handicapper of racehorses as he was of business investments. He established a substantial racing operation with Frank McMahon, and their stable's colours were a familiar sight in North America and Europe.
Mr. Bell's other involvements in sports included part ownership for a number of years of the Vancouver Canucks Hockey Team and the creation of Hockey Canada of which he was the first Chairman. He was also keenly interested in ranching, and was a partner in Alberta Ranches and Golden West Farms.
The vision and spirit manifest in Max Bell's business and sports enterprises also pervaded his myriad philanthropic activities. Dedicated to the education of young people, he contributed generously to various boys' camps and provided countless university scholarships anonymously.
A student of the Bible and an active member of Grace Presbyterian Church in Calgary, Max Bell led the Canada-wide institution of synods which facilitated the expansion of the Presbyterian Church in the late fifties and sixties. He had an abiding faith in God from which he continually drew his strength and to which he gave his thanks. He gave generously to the needy through the Salvation Army and supported Msgr. Athol Murray's Notre Dame College in Wilcox, Saskatchewan many, many times.
A fiercely loyal man, Max Bell possessed quiet courage and tenacity, attributes, which served him, well in his many undertakings. His dry wit and command of the English language made him a popular after-dinner speaker and his remarks were enlivened by an ability to tell amusing stories in almost any dialect. Mr. Bell was often quoted as saying, "The only time money is important is when you haven't any. Once you have it, however, you must accept the responsibility to make the best use of it and to ensure that those who become dependent on you for a livelihood are not injured by your transactions." His legacy to this credo is the Max Bell Foundation, which he established with the gift of a substantial portion of his estate - over $17 million in F.P. Publication shares - shortly before his tragic and premature death on July 19, 1972 at the Montreal Neurological Institute.
Since his death, the Foundation has authorized hundreds of grants totaling more than $65 million to a wide range of organizations across Canada. As stipulated by Max Bell, thirty percent of the amount awarded each year is directed to McGill University, one half to the Faculty of Medicine and the other half to the general purposes of the University.
On the Occasion of Mr. Bell's passing, numerous Canadians and organizations paid tribute:
"He was above all things a builder, and an imaginative and successful one, with a vision that went far beyond his own private interest and encompassed many good causes which he felt would help Canada. He will be greatly missed." (The Rt. Honourable Lester Pearson, former Prime Minister of Canada)
"A business genius, he nevertheless made time to devote a portion of his life to community and Canadian affairs. Canada has lost a great citizen, and the West a loyal native son." (Mr. N.R. Crump, former President of Canadian Pacific)
"His beneficences were as generous and as wide as they were largely unknown. He gave handsomely to the established institutions, to his church, to universities, hospitals, to Hockey Canada." (The Vancouver Sun)
Max Bell's legacy of philanthropy lives on.