Jay Westman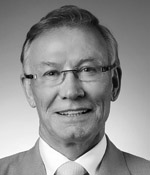 Jay Westman is a man of great determination, big dreams and a desire to drive change in his business, industry, and community. Jay is Chairman and CEO of Jayman Built and JWI Investments which he co-founded in 1980 with his late father and mentor, Al Westman.
At his very core, Jay is a builder and an innovator. Other than his family, he is most proud of his team at Jayman whose commitment means everything. Jayman has been awarded Builder of the Year 16 times and considered the number one single family builder in Calgary for 31 of the 39 years. After dominating the single-family home market in Calgary for decades, we are proud to have Alberta's first ever Resort community at Westman Village offering lifestyle choices for every generation, 1M square feet above ground and hosting a 40,000 square foot amenity centre, along with boutique retail, and restaurants.
Jay has a passion for life-long learning, and he spends his time focused on generating change in his industry and the business community. He considers his involvement in the Calgary Business Group, the Young Presidents' Organization (YPO), TEC in the early years, and the Calgary Presidents Group a great source of inspiration and mentorship. He is the founding Director of the Professional Home Builders Association, the Alberta Home Builders Association, and past chair of Alberta New Home Warranty. Jay received his Business Administration Designation from SAIT and credits a great deal of his success to lessons learned in life and business. This achievement was acknowledged in 2013 with an Honorary Bachelor of Science Degree, the Alberta Distinguished Business Leader Award in 2013. Jay is committed to advancing the issues of affordable housing and sustainability working on the Resolve Campaign to end homelessness, bringing Built Green to Canada in 2005. Jay drives innovation by integrating the latest technology and sustainability practices, and Jayman is the first builder in Alberta to include solar panels with every home.
Jay leads by example and believes success is a function of time and focus. He also never takes for granted the blessings in his life by following his father's lead sharing his time, talents and resources. Jay, his company, and his charitable foundation have raised $2.4 million for Calgary Health Trust, $1.4 million for the Mustard Seed personally. And has helped to raise $70 million for the Resolve Homeless Campaign. Dear to his heart with his family affected, Jay has also personally contributed $3 million for Multiple Sclerosis, and $5 million to the University of Calgary, Westman Centre for Real Estate Studies. This year, $1M committed to the same centre to kick off and co-chair a $15 million education campaign.