James Palmer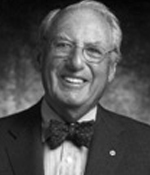 With family roots stretching back to Confederation, Prince Edward Island native James Palmer followed in his family footsteps by becoming the fifth generation of Palmers to pursue a legal career. He achieved a Bachelor of Arts degree in 1948 from McGill University and graduated from Dalhousie University Law School in 1952.
Jim and his wife Barbara settled in Calgary where he began practicing law with Burnet, Duckworth in 1955 and became a partner in the firm one year later. With his colleagues, Jim helped build Burnet, Duckworth & Palmer LLP, one of Canada's leading law firms, recognized for steering many of the country's most significant corporate deals, and for being a strong supporter of the community and an employer of choice. Jim was instrumental in the development of Alberta's oil and gas industry by acting as a government advisor. His talent for seeing things from a global perspective have brought him international recognition in his field. Among his many professional associations, Jim is a former Governor and Chairman of the Canadian Tax Foundation, and its first Chairman from western Canada.
Jim's significant contributions to business in Canada are paralleled by his commitment to community. An active volunteer, donor and leader, his efforts have benefited many organizations. His appointments have included Board of Governors of Dalhousie University, and Board of Governors and Chancellor of the University of Calgary.
From 1990 to 1993, Jim assumed duties as Chair of the University of Calgary's first major capital campaign, and helped to surpass the campaign's $40 million goal. In 1995, the James S. Palmer Lecture Series was established, and with his wife, he recently made a significant contribution to the University of Calgary through the establishment of the James S. & Barbara A. Palmer Chair in Public Policy.
Jim has been a key supporter of a number of social organizations, including the Calgary Homeless Foundation, United Way of Calgary, Salvation Army, and Habitat for Humanity. He is former Chair of the Calgary Philharmonic Orchestra, and has acted as Director for the Council for Business and the Arts in Canada, the Fathers of Confederation Building Trust, and the Canadian Broadcasting Corporation.
Jim's contributions have been recognized with a number of honours. He became a Member of the Order of Canada in 1998 and has received numerous honorary Doctor of Laws degrees across Canada. He received the Weldon Award from Dalhousie Law School for unselfish public service along with the Distinguished Service Award from the Law Society of Alberta and the Canadian Bar Association. In 2002, he was awarded the Commemorative Medal for the Golden Jubilee of her Majesty Queen Elizabeth II and in 2003 the Alberta Order of Excellence. In June 2008 he will be awarded the Friend of Education Award from the Canadian Council for the Advancement of Education.