Gordon Stollery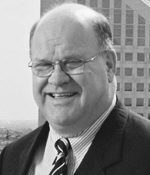 Arthur Gordon Stollery (Gordon) was born on April 30, 1947, in New Liskeard, Ontario. He spent his early years in the neighboring town, Haileybury, Ontario. He attended Princeton University in New Jersey, graduating with a civil engineering degree in 1970, followed by a Master's of Science, Geology from the University of Toronto in 1972.
Gordon spent the majority of his career in Calgary, moving to Alberta in 1979 to practice geology and to work in the oil and gas business. Gordon started his first oil and gas company Morrison Petroleums Ltd in 1980, which merged with Northstar Energy in 1997 and then Northstar Energy was purchased by Devon Energy in 1998. Gordon founded Highpine Oil and Gas in 1998, which later merged with Daylight Energy. In 2011, Daylight Energy was purchased by Sinopec International Petroleum. In 2010, Gordon provided seed capital to start Clearview Resources, a dividend oriented oil and gas company based in Alberta. Throughout his career, Gordon was founder of, seed capital investor for, or director of many Alberta based companies including: Canada Fluorspar, In Depth Resources, Gridiron Drilling, Midfield Tubulars, The Purple Perk, Pacific Rodera Energy Ltd, Middlefield Bancorp, West Energy, Ballistic Energy, Storm Energy, Veritas Seismic Ltd, Boardwalk Properties Ltd, OGY Petroleum Ltd, Valiant Petroleum, Canadian Gas Gathering Systems Ltd, and AGS Energy.
Gordon continued his family's stewardship of Angus Glen Farm in Markham, Ontario, which bred thoroughbred horses that have won a number of stakes races in North America, most notably Talkin' Man, Laurie's Dancer and Kennedy Road. Recognizing the lucrative business opportunity in breeding horses, Gordon redirected the company to focus on breeding horses in Kentucky, where he successfully ran a breeding operation.
Gordon's love of sports was ingrained in him early on. He was a passionate and dedicated golfer - a member of Rosedale Golf Club since 1961, winning their championship four times - in 1967 and 1972 through 1974, as well as runner up at the 1965 Canadian Junior Golf Championship. He played on the Princeton golf team and also played hockey for UTS and Princeton University.
His passion for golf led him to direct the development of Angus Glen Golf Club, which opened in 1995. Angus Glen was named the Best New Course in Canada by Golf Digest, and has hosted a number of prestigious golf tournaments, including the Canadian Open in 2002 and 2007, and will host the Pan Am Games in 2015. Gordon oversaw the development of the Angus Glen residential community, including the acquisition of the Kylemore Communities. In 2007, Gordon created Goodwood Golf Club in Uxbridge Ontario, an 18 hole course he enjoyed as his private sanctuary.
Gordon was an active and respected member of numerous professional organizations, including the American Association of Petroleum Geologists, the Canadian Society of Petroleum Geologists, and the Independent Petroleum Association of Canada. His contributions to the business community were recognized through awards acknowledging his activities in energy production, entrepreneurship, and management. To name a few the America Association of Petroleum Geologists, 1993 Oilweek Producer of the Year, 1992-1993 Pinnacle Award for Entrepreneurship in Alberta, and the Wall Street Week Gold Award.
Gordon was passionate about Alberta and believed in giving back to the community through mentorship and through the support of other entrepreneurs. He gave generously to various causes both in Toronto and in Calgary, most recently to Markham Stouffville Hospital and the University of Toronto. Gordon also supported the Edge School, the Canada West Foundation, Alberta College of Art and Design, and the Sandy Cross Foundation. He loved the outdoors, and especially the Albertan topography and landscape; and for this reason he generously supported several Albertan artists over the years. Gordon felt very strongly about the Calgary Stampede and supporting the tradition. He was a proud sponsor of the chuckwagons at the Calgary Stampede under his leadership at Morrison Petroleums and Highpine Oil and Gas.
Gordon passed away suddenly while on vacation in the British Virgin Islands on December 12th, 2011. The Canadian business community as well as his robust group of friends and family will miss his brilliant mind, gregarious personality and his sense of adventure.