Dr. T. Chen Fong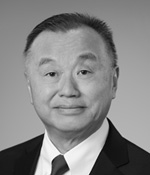 Chen was born and raised in Shanghai. He moved to Hongkong as a teenager where he completed high school. Chen attended the University of Manitoba, graduated with MD in 1977; the same year he became a Canadian citizen. After his radiology training, Chen joined the Foothills Hospital in 1981 as a junior doctor. He also taught at the University of Calgary School of Medicine. He chaired the Examination Board (Radiology) of the Royal College and served on the Academic Advisory Council of GE Medical. He retired in 2006 after serving as the Head of Diagnostic Imaging of the Calgary Health Region and the Head of Radiology at the University of Calgary. In 1999, he was honored by the American College of Radiology and elected as a Fellow. Dr Fong is Professor Emeritus of Radiology at the University of Calgary.
Chen has enjoyed investing early in his career. In 2006, he turned this passion into his vocation. His first foray outside of energy investing was a medical imaging start up. He helped to build Ultrasonix Medical Corporation which was sold in 2012. Chen has helped 11 groups of entrepreneurs to turn university based intellectual properties into successful companies. In addition, he seed funded and guided 43 start ups, mostly in medical technology.
Chen has been deeply engaged in Calgary in many ways. He contributes to and is a key fund raiser for healthcare and research, especially for the University of Calgary. He is in the Million Dollar Donor Circle of the United Way of Calgary and Area. Recognizing the need to bring new and specialized clinical skills to Southern Alberta, he funded the Helios Fellowship. This Fellowship has sent 38 young medical specialists to further their training around the world. These specialists are bringing their expertise back to our communities.
In 2015, Chen joined the Creative Destruction Lab (CDL) at the University of Toronto business school as a mentor. CDL helps young entrepreneurs to shape or pivot their nascent ideas. He is widely credited with launching CDL at the Haskayne School of Business at the University of Calgary, bringing together seasoned business leaders from Alberta, Canada and the US to grow budding companies. Chen is on the Strategic Advisroy Board of CDL and a Fellow of CDL in Toronto, Montreal, Calgary and Vancouver.
Currently, Chen is on four corporate boards and five philanthropic and research institution boards. He is a co-founder of Calgary Scientific Inc.
In 2017, Chen was invested into the Order of Canada for his contribution to medical technology innovation and philanthropy.