Donald Taylor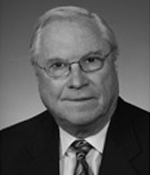 After obtaining a Master of Science degree in engineering from the University of Alberta in 1960, Don Taylor started his working career with Canadian Western Natural Gas Company (CWNGC). While at CWNGC, Don gained a strong understanding of the heating, ventilating and air conditioning (HVAC) industry and developed the view that a market existed for custom designed HVAC equipment.
In 1966 Don left his secure job at CWNGC to become president of Engineered Air, a struggling HVAC equipment manufacturing business located in Calgary. Since joining the company Engineered Air achieved steady growth, never experiencing an unprofitable quarter. The company's success is attributed to a commitment to the custom and innovative design, manufacturing, sales and marketing processes Don was instrumental in developing. Over the years the company has developed into a market leader by expanding its product offering through continuous research and development and selected industry acquisitions.
Don is still active in Engineered Air and has seen the company grow to over 1200 employees, including 130 engineers and technicians, located throughout 26 sales offices or nine manufacturing plants across North America. Current annual sales are $200 million with cumulative sales exceeding $2 billion.
Don has a true entrepreneurial spirit and has used the financial resources of Engineered Air to sponsor a number of successful business ventures. In the 1980's Don founded and built Resman Oil and Gas, a successful private oil and gas company that was eventually sold to Morrison Petroleum. He has since invested in a number of successful early stage energy companies. In the mid 1990's Don developed a significant real estate organization, which now owns and leases three million square feet of commercial property and also held a 65% ownership in the Three Sisters development in Canmore which was recently sold to Morgan Stanley Real Estate Fund. Don has helped many other companies in the Calgary area with manufacturing and business expertise through a board positions.
Don's commitment to philanthropy has seen him make significant donations both personally and corporately to education, healthcare, culture as well as an ongoing annual support of a diverse group of charities. These endeavors and others have seen Don receive an Honorary Bachelor of Applied Technology Degree from the Southern Alberta Institute of Technology and an Honorary Doctor of Laws Degree from the University of Calgary.