David (Dave) P. Werklund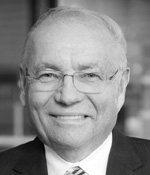 Canadian entrepreneur, oilfield-industry leader and dedicated philanthropist, David (Dave) P. Werklund developed a can-do attitude from his upbringing on a farm in rural Alberta. He is well known for his commitment to strong leadership principles, life-long learning, and strong values.
Beginning his career in 1965 as a production operator with Shell Canada, Mr. Werklund has risen in the oilfield industry to become a trusted industry partner. Early in his career, Mr. Werklund recognized and capitalized on the need to address environmental and waste management issues in the oil and gas exploration industry. As the co-founder of Concord Well Servicing, founder of Tervita Corporation (formerly CCS Corporation), founder of Werklund Capital Corporation and Founder of Werklund Foundation with his daughter Deanna.
Through the Foundation, Dave furthered his vision for leadership education establishing The Werklund Foundation Centre for Youth Leadership Education in the Faculty of Education at the University of Calgary. The Werklund Foundation is the major sponsor of the Empowering Minds student leadership program that offers world class leadership programs which empower Alberta students with confidence, resilience and motivation to lead in life.
Among Dave Werklund's many honors:
2012, Honorary Doctor of Laws from University of Calgary
2010, Honorary Bachelor of Applied Technology Degree from SAIT Polytechnic
2007, Industry Legend Award from Energy TV
2005, Ernst & Young's Canadian Entrepreneur of the Year
2005, Ernst & Young's Entrepreneur of the Year, Prairie Region
He has been featured in various publications including the Globe & Mail, the Financial Post, Canadian Business Magazine, the Calgary Herald, Calgary Inc., and Alberta Venture where he was listed as one of Alberta's 50 most influential people.
Dave and his partner Susan delight in time spent with grandchildren and entertaining family and friends at their summer retreat at Shuswap Lake in British Columbia and at their winter retreat in Wailea Maui. World travel is one of their great pleasures.
As an entrepreneur, in the oil business, and as a dedicated philanthropist, David Werklund is defined by a can-do attitude he absorbed from his roots in rural Alberta.
And he's gone further still, to establish the Werklund Foundation, working with the University of Calgary's Faculty of Education to develop and support research, teaching and community service activities focused on… what else…. Leadership.
David Werklund didn't shy away from a challenge, and nor should you. Use every bit of experience and knowledge you've gained here to shape a better future. And as you aim higher, take your profession, your community and your country with you.
We've gathered our community leaders together to help celebrate tomorrow's leaders who sit amongst us. Their diverse talents, significant achievements and tremendous promise represented by this celebration ….