Clayton (Clay) Riddell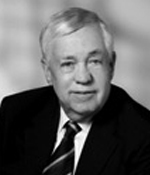 Clayton (Clay) Riddell grew up in a middle-class Winnipeg home, the son of a mailman. Upon graduation from the University of Manitoba, he began his career as a geologist with Chevron in 1959. Ten years later, he left Chevron to start his own business, C.H. Riddell Geological Consultants Ltd. In 1974, Clay launched a private firm called Paramount Oil & Gas Ltd. Four years later, he incorporated Paramount Resources Ltd. and sold 40% of the company to the public in an IPO, raising $5 million.
Paramount still operates today and explores for, develops, processes, transports and markets petroleum and natural gas. Paramount also prides itself on being ahead of the curve. Long before it became fashionable to do so, the company focused its exploration on natural gas. More than 90% of Paramount's revenue is derived from natural gas sales and the company has consistently been one of the top gas-zone finders in Canada. "We built our entire company by drilling and developing gas beyond the edge of the pipelines where there wasn't as much competition," says Clay.
Through two restructurings, Paramount Resources has spawned two large royalty trust companies, Paramount Energy Trust and Trilogy Energy Trust. Clay's two children, Jim and Sue, are currently running Paramount Resources and the two Trust spin-outs, with Clay's active involvement.
In addition to his contributions to business, Clay has also been recognized as a donor to Calgary's Potential Place. This organization provides treatments for mental illness by creating a restorative environment within which individuals who have been socially and vocationally disabled by mental illness can attain or regain the self esteem, confidence and skills necessary to lead vocationally productive and socially satisfying lives. He has also been involved in fundraising initiatives for the Calgary Flames Charity Foundation, the Between Friends charity golf tournament and the University of Manitoba. The Clayton H. Riddell scholarship of Environment, Earth, and Resources at the University of Manitoba is named in Clay's honour. He donated $10-million in order to create an endowment fund for the faculty. The faculty combines the Department of Environment and Geography, the Department of Geological Sciences and the Natural Resources Institute.
Clay is a part owner of the Calgary Flames and is an investor in the food and beverage business, including the popular restaurants Wildwood Grill and Bonterra. He owns a 190-hectare ranch southwest of Calgary, where he indulges his passion for breeding thoroughbred horses. According to the Canadian Business Magazine, Clay ranked as the 50th wealthiest person in Canada in 2004. Riddell was a past president of the Canadian Society of Petroleum Geologists and Chair of CAPP.