Cal Wenzel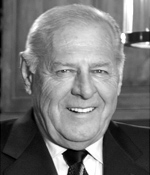 Cal Wenzel founded Shane Homes Ltd. in 1979 and has stewarded its growth into a multi-million dollar company which employs over 120 full time staff and countless contracted tradespeople and suppliers. Nearly forty years later, he remains steadfastly commitment to maintaining the best reputation for building quality homes, to continuously improve, and to satisfy his customers.
Prior to founding Shane Homes, Cal held a senior management position with the Jim Pattison Group of Companies. Over the years he was a founding partner and President of Excel Homes Ltd., a company that specialized in the first-time home buyer market. He was also founding partner and Vice-Chair of Apex Land Corporation, a land development company involved in multi-family and institutional developments.
He has served as President of the Calgary Region Home Builder's Association, President of the Alberta Home Builder's Association, Executive Vice-President of the Canadian Home Builder's Association, Director of the New Home Warranty Program of Alberta, and is a member of the Alberta Home Builder's Association "Hall of Fame". Outside of the industry, Cal has served on numerous boards, committees and charitable foundations.
Cal, along with his wife Edith, and Shane Homes, have made giving back to the community they serve a priority. In the first profitable year of Shane Homes, they donated 25% of their proceeds to Ronald McDonald House. Their philanthropy has continued for over 30 years and has added up to tens of millions of dollars. Cal plays a key role in the annual Willow Park Charity Classic which raises in excess of $500,000 annually for a variety of charities. A longtime supporter of the Kinsmen Children's Hospital Home Lotto, Cal also served on the Ronald McDonald House fund development board.
While Cal chooses a wide variety of organizations to support, he has placed a particular focus on supporting organizations that benefit children and families; be it through health research, support of the Arts, donating to educational institutions or providing educational grants to families who are less fortunate than his own. In addition to targeting ways to provide others with opportunities to experience or have access to some basic fundamentals of life, he also has a strong desire to assist them in moving toward achieving a better life for their families. Cal believes in being a team player in business, philanthropy, and life. On various occasions he has joined fellow home builders to make transformational gifts to institutions like SAIT and the RESOLVE Campaign to end homelessness in Calgary.