Bob Brawn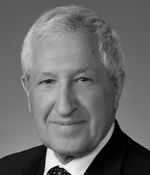 Born in Calgary in 1936 to Gerald and Daisy Brawn, Bob has spent most of his life in Calgary as a community leader and entrepreneur in the energy industry. In 1958, Bob graduated from the University of Alberta with a BSc in Chemical Engineering, married Carole and started his professional career.
Bob's career began as a chemical engineer for Mobil Oil before moving on to International Drilling Fluids. In 1965, Bob purchased an oil recycling refinery in Edmonton, launching SL refineries – later to become Turbo Resources. As President and CEO, Bob grew Turbo Resources from $1 million in sales to over $500 million in 12 years.
After Turbo, Bob lead and grew a number of successful companies including Merland Exploration, Bankeno Mines, OMV Canada, Grande Cache Coal and Acclaim Energy Trust.
Apart from his business ventures, Bob has always been an active community volunteer. While his family and business were growing, Bob coached and played hockey, and was president of the Springbank Park for All Seasons. Community activities also included being chairman for the Calgary Economic Development Authority, Rotary Club of Calgary South, Calgary Winter Festival Foundation, Calgary Chamber of Commerce, the Independent Petroleum Association of Canada, the Van Horne Institute, OCO'88, the Calgary Airport Authority and many others.
The political world has not been immune from Bob's leadership and advice, as he has accepted appointed roles to a number of provincial committees. These include chair of the Alberta Economic Development Authority, the Alberta Competitiveness Council, a member of the Premier's Council for Economic Strategy, and Honorary Colonel of the 746 Calgary Communications Squadron.
Through a family foundation formed in 1976, Bob has contributed to many worthy community initiatives. In 2007, the Association of Fundraising Professionals recognized the work of the Brawn Family Foundation with their prestigious Generosity of Spirit Philanthropic Family Award. He also received the Community Service Award from APEGA in 2001. Bob was admitted to the Petroleum Hall of Fame in 2008, received the Kay Pringle memorial Award from the Calgary Chamber of Commerce in 1995 and the Canadian Commemorative Award from the Government of Canada in 1992.
Currently, Bob presides over a private investment company, serves as director for a number of private and public companies and is a loving husband of 55 years to Carole. He is a father of four and grandfather of 9.