Bill Yuill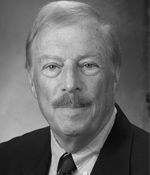 Bill Yuill is the Chairman and CEO of The Monarch Corporation, a Canadian private equity company. The Monarch Corporation is the parent company of Monarch Ventures Inc. and Consolidated Sports Holding Ltd.
He was previously Chairman and CEO of Monarch Communications Inc., the parent Company of Monarch Broadcasting Ltd. and Monarch Cablesystems Ltd.
Bill is currently a Director of Shaw Communications Inc. and the Chairman of their Human Resources and Compensation Committee. He is also a Director of the Western Investment Company of Canada Ltd. (2016), a Trustee of the St. Andrew's College Foundation (2001) and a Governor of the Western Hockey League (1989). He served as a Director of the Western Financial Group from 2004 to 2011.
Bill is currently the Chairman of the Yuill Family Foundation. He was a member of the Alberta Economic Development Authority, a past Director of the Medicine Hat Exhibition and Stampede and the past Chairman of the Medicine Hat College Foundation.
Bill has received numerous awards, including the Milner Fenerty Pinnacle Award (1995), the Queen Elizabeth II Golden Jubilee Medal (2003) and the Queen Elizabeth Diamond Jubilee Medal (2013). He also received an Honourary Doctor of Laws from the University of Lethbridge (2006) and the Alberta Order of Excellence Award (2016) and an Honorary Degree from the Medicine Hat College (2017). His team also won the champion's trophy in the wild cow.
He is the third generation of his family to reside in Medicine Hat. Bill attended public schools in Medicine Hat, at St. Andrew's College in Aurora, Ontario and at the University of British Columbia in Vancouver.