Alvin G. Libin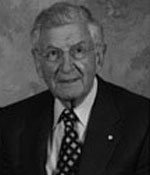 Alvin (Al) Libin is an active and respected community leader who has made enduring contributions, primarily in the areas of health care delivery and research and post secondary education.
Al is a respected member of the Calgary business community. In the health care industry, he led the development of nursing homes within the province of Alberta and across Canada. He co-founded Villacentres, which began business in 1967 with 150 beds. Today, that business has grown into the Extendicare system of 28,000 beds in Canada, the United States and the United Kingdom. Al has always distinguished his operations by the quality of care and hospitality offered to the residents. Currently, he is president and chief executive officer of Balmon Holdings Ltd., a management services and investment company. Also, he is a director and owner of the Calgary Flames Hockey Club.
Al's contributions, in terms of community involvement, are most noteworthy and are best exemplified by his volunteer efforts for health delivery and health research and technology. From 1979 to 1990, he was the chairman of the Board of Trustees of the Foothills Medical Centre, Calgary's teaching hospital and its leading health care facility. During that time, he led the Foothills in its program growth, pursuit of excellence and national and international recognition.
From 1990 to the present, he has served as the chairman of the Board of the Alberta Heritage Foundation for Medical Research, a body that supports medical research at Alberta universities and other medical and technology-related institutions.
During his tenure at the AHFMR, the Foundation's contributions to research and science have grown to nearly $50 million per year. The Foundation's capital has almost tripled to approximately $1 billion and has received the highest awards for its processes and successes.
In addition to leading formal health sector organizations, Al generously volunteers his time and his leadership skills to help build a better community. A prime example of this is when he took the initiative in forming and then played a key role in the recently completed Partners in Health Campaign; more than $52 million was raised in the community for needs of the partnership of the Calgary Regional Health Authority and the Faculty of Medicine with the University of Calgary.
Al's volunteer efforts have extended to and touched many other aspects of our community. He is a past president of the Calgary Jewish Community Council and has been a leader in nearly all endeavors within the Jewish community in Calgary and Alberta. His commitment to education is exemplified by his service to the University of Calgary in a number of roles, including as a leader in the University's successful Building the Vision national capital fundraising campaign from 1990 to 1993. As a leader of the United Way of Calgary and of many other community endeavors, he has consistently contributed to the betterment of quality of life in Canada.

Al has not only contributed most meaningfully of his time, talents and expertise to help make a better community in Calgary, he has been a significant financial contributor to many worthy causes in the province of Alberta, within Canada and internationally. He endowed the Alvin and Mona Libin Foundation, which now has assets of nearly $20 million and contributes approximately $800,000 annually to the community. The Alvin and Mona Libin Foundation has become a leading supporter of health and education needs and generously provides funding to a wide range of community endeavors, from the Women in Need Society to YMCA Partners in Youth.

Al Libin was named an Officer of the Order of Canada in 2001 and received an honourary Doctorate of Laws degree from the University of Calgary in 1994.